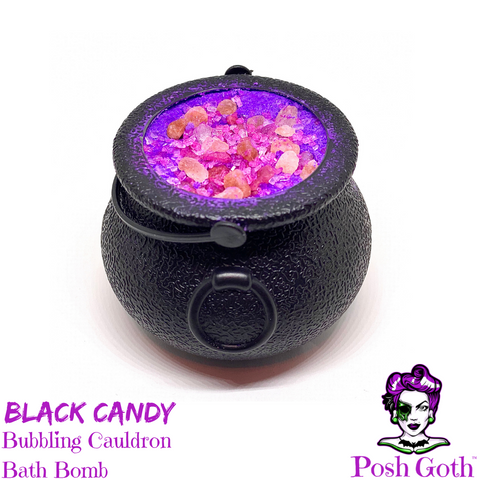 Bubbling Cauldron Bath Bomb in BLACK CANDY by Posh Goth
Do some witchcraft in the tub with these all natural (and vegan!) bubbling cauldron bath bombs.
Because spells were meant to be cast naked!
This purple cauldron bath bomb is scented with Posh Goth's BLACK CANDY fragrance. The scent is a captivating melding of top notes featuring star anise, fennel, spicy cinnamon cassia topped off with base notes of amber and woods
Each cauldron weighs approximately 8 oz.
Ingredients: Coconut oil, corn starch, citric acid, baking soda, phthalate-free fragrance oils , witch hazel natural mica colorants, activated charcoal (black colored bombs only), bentonite clay (black colored bombs only) Epsom salt
*Bath bombs will leave color residue behind in the tub. While these colors should wipe clean right off, Posh Goth is not responsible for your displeasure at having to clean your tub. 
---
We Also Recommend
---